Tatiana Militskaya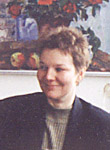 Tatiana Militskaya is Ukrainian. She was born in Baykonur, Kazakhstan.
In 1984 she graduated from Leningrad State University, in 1986 she finished the course of World Arts in Leningrad State University.
Since 1984 she has been living in Murmansk. She was a teacher of World Arts at school and technical college.In 1994 she took out a patent for the Atlas of World Arts.
Tatiana is a painter. In 1999 she had a personal exhibition in the Murmansk Arts Centre.
Since 1995 she is engaged in publishing. In 1999—2003 Tatiana published more than 200 different post cards with the paintings of artists of Russia, Murmansk, Petrozavodsk. She also published some calendars: "The Women of the Polar Circle", "Minsk-Murmansk", "The Saami Calendar". She published the book "Pushkin by children's eyes", "Murmansk in the music and in the stone".
Since 2000 Tatiana Militskaya is Executive Director of "Varzuga Foundation", a non-commercial fund aimed at the preservation and support of Russian North culture and Murmansk Ethnographic Museum of Folk-Dressed Dolls, Arts and Crafts of European North Indigenous Peoples.